Posted 10/17/2023 by Baker Party Rentals.
Colab Space hosted a Glam Soiree and extended their invitation to local vendors and social media influencers around Orange County. They reached out to Baker Party Rentals to be a part of the festivities and help bring their design to life with our products and touches of creativity.
Located in Irvine, Colab Space is a venue that provides clients the opportunity to host events, meetings, and social gatherings. The atmosphere of the office space is bright and colorful. What makes Colab Space so unique is the interior design. Modern furnishings, allow a clean slate to create and host any type of event.
Morgan from House of M Co. designed the balloon decor and displays around the venue. As you walked into the building, you were immediately greeted by this glamourous display, incorporating the color palette of the event.
The Evening's Hosts
Glam Soiree was hosted by the founder Jade Cao of Colab Space. She worked with Steven James of Steven James Design and party planner Jennifer Donaldson from Willow & Bloom Events to transform the space into a festive celebration. The evening was photographed by Colleen David from Wondering Free photography.
Glam Meets Spooky Decor
As soon as you walked through the main lobby, guests were captivated by beautiful hanging streamers from The Fringe Aesthetic and brightly colored pillows adorning the lounge furniture. Most people think of the standard Halloween colors as black, orange, and purple. To enhance these colors, the event designers incorporated pink, silver, and copper elements. One might call it Halloween-glamor-disco-chic!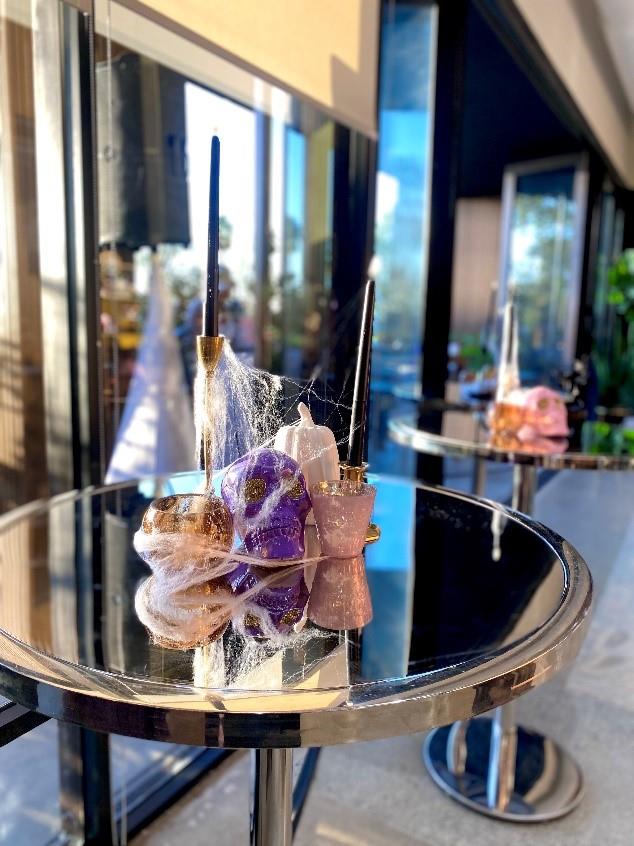 Spooky Centerpieces
Baker Party Rentals provided a selection of products that enhance the overall chic design of the event. The designer chose our 30" Gramercy Mirror pedestal tables for a glam cocktail look.
They mixed our brass candlesticks, pink Charlotte votives, amber crackle votives, and black candlesticks, creatively enhancing the standard black, orange, and purple Halloween colors.
Pick Your Poison
It was a ghoulishly exciting opportunity for Baker Party Rentals to showcase our more glamorous rental products throughout the venue.
The black suede curved sofa and 4' lighted bar were displayed outside to create a spooktacular atmosphere, perfectly paired with festive Halloween decor. This eye-catching lighted bar illuminated the area and accented the glamorous Halloween decor displayed outside. This bar features many different color settings, and purple was the perfect choice for the bar service provided by The Tipsy Beaker. Their selection of cocktails tickled your taste buds!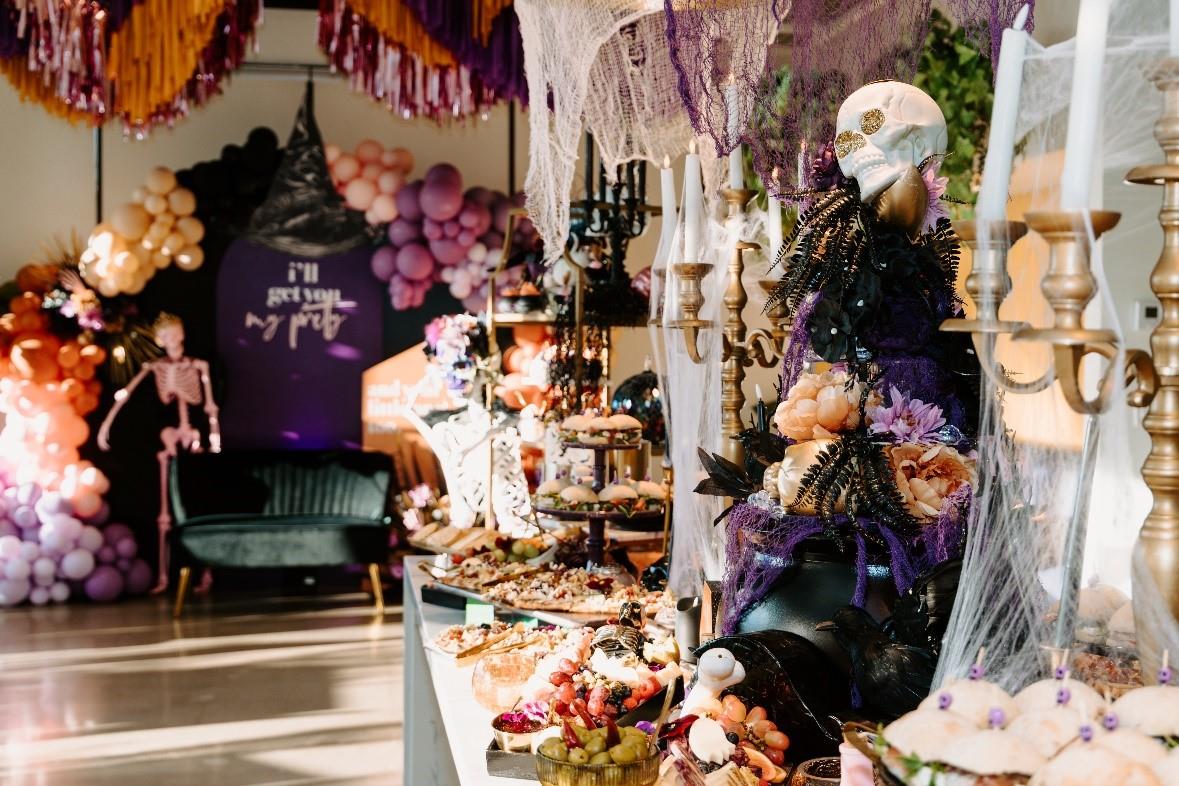 The Spooky Spread
Our gold candelabras, enhanced by some creepy cobwebs, transformed an ordinary table into a frightfully fun grazing station, featuring a tasty spread of mini bites and sweets.
Featured Rental Items
Black Carpet, 5 Light 31 1/2" Gold Candelabra, Brass Candlesticks, set of 6, Black Candlesticks, set of 3, 4" Amber Crackle Glass Votives, Light Pink Charlotte Votives, Copper Crush Linens, 48" Round Table, Black Suede Curved Sofa w/ Back, 4' Lighted Bar, Gramercy Mirror 30" Pedestal Table.
Vendor Team
Venue: Colab Space
Designer: Steven James Design
Event Planner: Willow And Bloom Events
Photography: Wandering Free Photography
Digital Creator: Newport Coast Moms
Magazine: Newport Coast Living and Newport Beach Living
Florals: Elegant By Design
Marquee Lights: Up In Lights OC
Fringe: The Fringe Aesthetic
Balloons: House Of M Co.
Signage: Paper Haven Shop
Catering: Taylor Made Cuisine
Bar Service: The Tipsy Beaker
Desserts: Sweets By Sofia
Cookies: A Sisterly Cookie
Cakes: Bake Up
Coffee Service: Moonwood Coffee
Picnic Rentals: Dolce Picnics
Music: Good Mood LA
Mobile Flower Bar: The Misty Pistil
Sound Bath and Astrology: Marshapacificar
Tarot Reader: Avery Rose Healing and Rest Play Today
Massage: Jana Hungate
Coaching: Lyndi Kennedy
Makeup Artist: Painted By Leo and Faces By Faith
Hair: Vanity the Salon
Artist: Bailey Art Studios
Photo Booth: Whoa Cool Booths
Video Editor: Anthony Barro
Video Cinematographer: JG Productions