Posted 2/13/2020 by Baker Party Rentals.
Romantic Nursery Wedding
This week, love is not just in the air - it's also in this week's wedding design! With Valentine's Day just a few days away, we're ready to jump right back into wedding looks. Today's inspiration has everything we love about romantic outdoor weddings, full of gorgeous florals in a soft palette, lush greenery, and just a touch of rustic charm. And with abundant landscapes and soaring palm trees, this private venue gives this look the nursery vibes that we adore!
Let's Talk About This Ceremony!
The ceremony design was absolutely enchanting – just look at that stunning circular arch! Set against our Boxwood Hedges, the arch was a garden fantasy covered in lush greenery and blooms in different hues of soft pinks, corals, and blush. Our Oak Farm Chairs added a rustic touch that worked perfectly with the garden design, and we love the potted ferns and lanterns at the entrance of the aisle! And with string lights overhead, this design was everything we could expect from a romantic garden ceremony!
Next, A Gorgeous Reception
The reception design was just as stunning, with lots of flowers and greenery to match the landscape. We love the mix of our Pine Farm Tables and round tables dressed in our Ivory Burlap Linens for the reception tables. And we're swooning over the use of galvanized containers for the floral arrangements paired with the smooth glass finish of our Cellar Bottles.
Our Blush Dinnerware and Shrimp Napkins were a total match to the soft color palette in this design, while our Clear Roma Goblets added a vintage touch and personality to the tablescape design.
How About This Sweetheart Table?
The sweetheart table definitely stole the show at this reception! Overlooking the dancefloor, the sweetheart table was a garden dream come to life! We love the big leafy potted plants in front of the table, paired with an assortment of lanterns including our Audrey Mercury Lanterns. And with a lush arrangement of greenery and fresh flowers adorning the tabletop, the sweetheart table was the perfect focal point for this romantic nursery wedding look!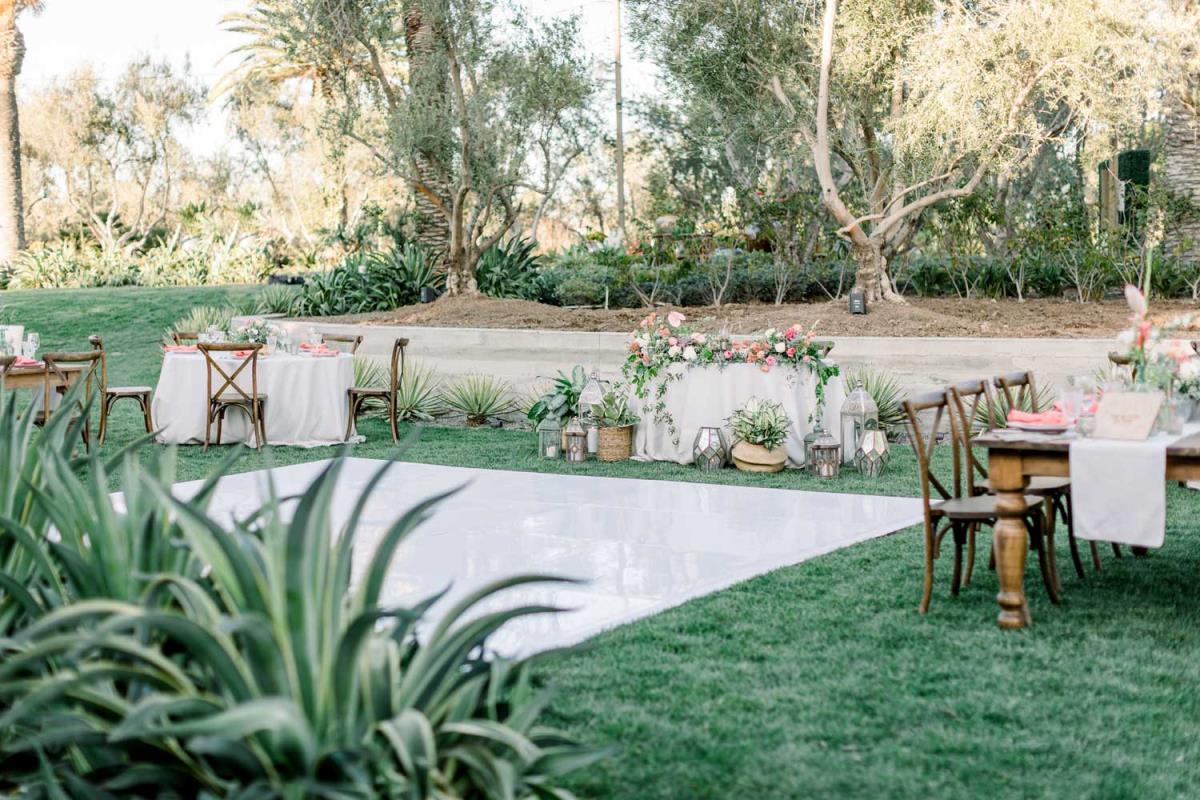 Let's Not Forget About the Bar!
We can't leave the bar design out, especially one as exquisite as this one! Featuring a minimalistic look, the bar installation was a great contrast to the abundant look of the reception. Our White Bella Bars were adorned with just a few succulents, lanterns, and cellar bottles. Likewise, our White Bella Barbacks were decorated with a few potted plants and glass bottle accents. Simply stunning!
Vendor Team
Photography: Areeg Spencer Weddings
Venue: The Nursery by Southwinds
Planning + Design: Events by Robin
Florals: The Bloom of Time
Seamless Dance Floor: Above the Top Rentals
Catering + Bar: Colette's Catering
Featured Rental Items
Boxwood Hedge, Oak Farm Chair, 60" Round Table, Ivory Burlap Linen, Pine Farm Table, Blush Stoneware Plates, Savoy Flatware, Shrimp Napkin, Roma Clear Goblet, 22oz. Wine Glass, 60" Half Round Table, Small Cellar Bottle, Small Audrey Lantern, 4' White Bella Bar, White Bella Back Bar, 19oz. Stemless Wine Glass